On 6 September 2013 a submission "An expelled German family visits the occupied German province of Pomerania"
by Pablo von Koeller was presented on the site of Justice For Germans. The letter reminds me of my own impressions, both from Pomerania (Polish: "Pomorze") and – even more prominently – from Upper Silesia, where I grew up.
I myself remember that many years ago, as we were repeatedly visiting Świnoujście (German name "Swineműnde") I was constantly (whenever we were there for summer holidays) struck by the view of the partially destroyed Lutheran church that was simply left after WW2 in precisely the condition in which it was at the close of the war. It was built in 1905. Now, as I could see from photos on Google Earth, the only remaining part of it is the tall tower, now housing "Café Wieża" ("Tower Café"). The old cemetery however, which I still remember from my childhood, has now been long turned into a park. I still remember having seen lots of old, devastated graves there.  As a child I particularly remember one old grave site which was open (it was a destroyed tomb made of brick masonry inside but already empty). One day, walking along one of the side walkways, I found a medal (military?) almost totally corroded by rust next to one of the devastated graves. The place was very gloomy, dark and almost like from the Harry Potter movies due to the tall and wide old trees growing there and not trimmed regularly.
Alongside the beach there were still numerous bunkers from the time of the war and many times I was finding rusty bullets and shells there in the sand. My mother still remembered her first visits to Swineműnde in the late 1940s and early 1950s when she was seeing German military helmets in the woods around. Once she even found a military belt with the buckle proudly displaying the inscription "Gott mit uns". As for helmets, I could still see some of them in the 1960s and 1970s. One such helmet I found in 1974 in the town of Ustronie Morskie (German name: "Henkenhagen") near Kołobrzeg ("Kolberg") but it was badly damaged, one part broken off completely like from a "Volltreffer", rusty, but there were still visible traces of the black-white-red shield on one side and of the characteristic Luftwaffe eagle on the other, which means that it was a helmet of a Luftwaffe unit, not of the Waffen-SS or Wehrmacht. I was keeping it for a long time but it was finally removed from our cellar many years later when my mother decided to bring things to order again there…
But back to Swineműnde: the beach has of course always been used by tourists, but they could never enter the western part of it, close to the border between Poland and the German Democratic Republic. Part of the western beach was closed to us Poles also for yet another reason: it was a Soviet beach. Families and children of the Soviet military were playing and resting there. One could see quite a few Soviet citizens in the town, both military and civilian. The blocks of flats in which they dwelled were appalling: they were situated in separate suburbs and looked very much like single-storey military barracks. Often there were old newspapers sticking to the window glass panels instead of curtains…
As a child I used to crawl into a Soviet kindergarten through a hole in the fence as we were staying in a house just next to it. I was accepted by the Russian kids and even by one of the elder female staff working there, albeit I could not speak Russian at all at that time. But kids always find ways to communicate. My visits there were poised to be short lived however, as one of the younger female staffers decided not to tolerate them and one day she simply "asked" me to leave. I could not understand everything from her Russian tirade, except for the emphatic "Pashol' von!" ("go away!").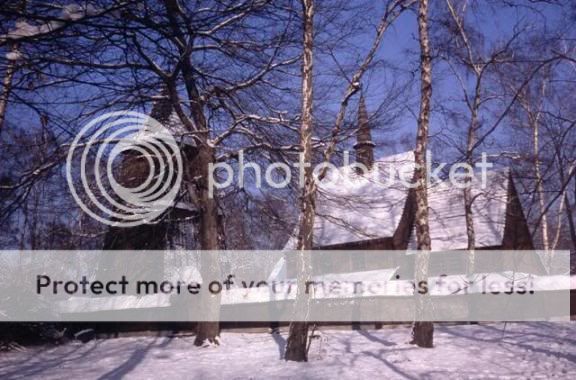 In Silesia I had, of course, more opportunities to see both the traces of historical past as well as our contemporary way of dealing with them. After all, it was Upper Silesia where three times Polish insurgents tried in three consecutive years (1919, 1920 and 1921) to extend the territory of the newly re-established Polish state. The three Polish uprisings (officially known in Poland as "Silesian Uprisings") left their long-lasting effect on the local population. The line of the Polish-German division ran through whole families.  The Polish-German conflict was of course older than the 1920s but it was a surprisingly late and short one. In the years between wars Upper Silesia became additionally a battleground for yet another struggle: a propaganda-war about who contributed more to the cultural development of the region: Germans or Poles. Both sides were sliding into production of scientific literature full of obvious lies about the cultural history and about particular examples of our local heritage. To me it became particularly striking after I studied the case of the local wooden churches of which we still have 137 in Silesia and which both sides tried to make their, and only their, cultural heritage. But this is a separate issue, on which I wrote extensively in another place (so far only in Polish):  http://www.monio.info/wykaz-slaskich-kosciolow-drewnianych/
Both sides were turning also to the use of violence, and politically motivated murders ensued. Places where Poles were murdered (during the Silesian Uprisings and later during WW2), are still marked with plaques or monuments. Places where Germans were murdered do not have such visible marks, albeit some people still know where they took place and where the victims are buried. From my childhood I remember particularly one example, of Berthold Hildebrandt of the "Deutsche Turnerschaft in Polen" (where he held a function of "Oberturnwart"), who was murdered in Szopienice ("Schoppinitz") on his way from the prison of Mysłowice ("Myslowitz") on 3 September 1939 and whose gravestone still exists in Poland.
Every year on All Saints Day (1 November) I was visiting his grave too, as he is buried in the same cemetery as some of my relatives. In this way there was always one candle for him from us.
There are, of course, numerous graves of German soldiers who fell during WW2 on Polish soil (and this includes also areas which belonged to Germany before the war). For many years they were not taken any particular care of, albeit some small, scattered German minority groups were at least making them visible with fresh flowers and candles. In some places, usually located in cemeteries, there are small monuments built to those who were murdered at the end of WW2. Today German cemeteries are generally in much better shape.
Still, however, it does not seem to be the case of the old gravestones and crypts around the famous Gnadenkirche in Jelenia Góra ("Hirschberg") in Lower Silesia, which I remember seeing when I was a student in 1979. The church itself looked much better – and looks even better today. But the photos of the crypts I found on the net do not give any better and more optimistic picture than the one I remember from that time. I am sure this will change for the better in the near future as thing change step by step with every passing year. In Upper Silesia there are now even bi-lingual plates with the names of particular towns – no doubt a result of the self-assertion of the local German communities. But the crypts in Hirschberg were (and still seem to be) wrecked. One of them gave me shelter one day during a heavy rain (the church was closed). Sometimes the crypts were giving shelter to some local drunks and homeless people, who used them when they had some meager meals and when they consumed large amounts of vodka or much cheaper alcohol which we call "denaturat" and which is simply an incredibly stinky methylated spirit, coloured in bluish purple…
Generally, German "memorabilia" finds more kind interest in today's Poland than was the case about 20 years ago. In the Upper Silesian city of Chorzów ("Kőnigshűtte") there is the monument honoring the Prussian count Friedrich Wilhelm von Reden. It existed before the war, when it stood on the "Redenberg" (i.e. "Reden Mount"), now it is directly in the centre itself. http://www.monio.info/2009/09/03/3-wrzesnia-od-panienki-ida-niemcy/
Some local streets in the region were given names of outstanding Germans, like "ulica Grundmanna" ("Grundmann Street") in Katowice ("Kattowitz"). Next to my high school, the oldest high-school in Katowice (built around 1900) there is an old square which was known as "Thiele-Winckler-Platz" and the local "Ruch Autonomii Śląska" ("Silesian Autonomy Movement") now demands that the name be reinstated.
However some very large monuments of German culture will most likely never be restored, especially if the cost were enormous. This might well be the case of the former residence of the von Donnersmarck family residence of Świerklaniec ("Neudeck") in Upper Silesia, of which some remnants can still be seen as I show on Facebook.
https://www.facebook.com/michael.monikowski/media_set?set=a.522845107775825.1073741828.100001510222719&type=3
While preparing my degree-thesis at the Faculty of Architecture in Gliwice ("Gleiwitz"), I heard my professor state regarding Germans visiting and seeing the devastated German graves in that city, "they look at us like we were cannibals." I know what he was talking about because many Poles visiting the former Polish eastern regions had the very same impressions about Ukrainians. But now, slowly, the "cannibal looks" disappear, both for Germans in Poland as well as for Poles in the Ukraine. Former German cemeteries look now far better than they used to, just as the Polish cemeteries in the east – like the Polish military cemetery in Lwów ("Lemberg"), the so-called "Eagles' Cemetery" –  are now cared for much better by the local Ukrainian authorities than was the case in the past.
And one final remark: when I write about graves and cemeteries which are or at least should be taken care of, I mean these which have special artistic or historic value. It is true that a lot remains to be done. But when it comes to other graves, they will be flattened and reused if the family of the deceased persons fails to make their periodical payments to the parish office. This happens all the time, no matter whose graves are at stake: Polish, German, Jewish etc. Our family failed to continue those payments for the grave of my grand-grandmother, Frau Emile Stolka, geb. Rieger (her family was fromHungary). She died in 1933 and was buried in the local Lutheran cemetery. Now somebody else is buried there.